Cheer on the team in Berkley on August 4th , 2007
On Saturday
August 4th 2007
, over 60 PMC riders will be pedaling to raise money for neuroblastoma research at Dana Farber. We have organized a special rest stop in Berkley, MA along the 90 miles trek. Come and cheer them on. Here are the details.
Friends for Life Rest Stop
This will be our thirs annual Friends for Life cheering section, mid-ride party at the Lion's club in Berkley along the PMC bike route.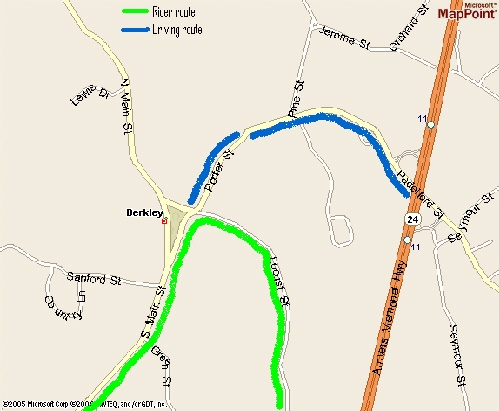 The club is located on the Berkley common, which is the triangle in the center of the above map.
For PMC riders, it is less than 10 miles after the Dighton lunch stop.
It comes equipped with a small kitchen, "real bathrooms", a playground for the kids, nice shade trees for the cheering section and an indoor hall in case of rain!
We have a team of volunteers that will make it the "Best" and most desirable place to stop to meet your family and friends along the route and have lunch and a rest before moving on to Bourne. We encourage team riders to shorten or skip the Dighton lunch stop in order to spend time at the team stop with the friends and family and children that bring us all together to ride for this cause.
There will be plenty of food and drinks for all with the "Franwich" making a come back by popular demand. There will be lots of interesting things to do for the kids while they wait for the riders (playground, games, music, face painting, crafts, magic, lemonade stand. etc). Best of all there will be plenty of Friends to enjoy the day with.
If you or your friends and family want to help with set up please
contact Gail Riley at 781-686-0434 or gyriley@comcast.net.
Also contact Gail if you would like to provide food and/or drink at the stop. We will need baked goods, treats, fruit, drinks – anything you think tired bikers would like.
We expect that most riders will be at the stop between 11:00am and 2pm.
Please help us get the word out to everyone who would like to come and cheer on the team. Tell all your friends to come meet the kids we pedal for and their families. People should bring chairs and/or blankets to sit on. There are a number of trees and plenty of shade for people to just relax and enjoy the event.
Driving directions:
Take Route 128 or I-495 to Route 24 south.
Take exit 11. Padelford St, Berkley, Dighton.
Turn right (west) onto Padelford St.
Proceed one mile until you come to Locust St.
After you go straight across Locust St, the common and Friends For Life waterstop will be on your right. There is parking around the Old Town Hall building as well as near the playground.
Berkley is 40 miles south of Boston.
Any online map search for "Berkley, MA" will bring you right to the town common.