myFRIENDSforLIFE.com is a meeting place for families, friends, and caregivers touched by childhood cancer. Originally brought together in clinics and hospital settings where we fought for the lives of children, we continue our friendships as a committed and creative collective.
myFRIENDSforLIFE.com maintains a forum to coordinate fundraising activities benefiting pediatric cancer research, and also related news about what we have accomplished. We also maintain links to online childhood cancer education, support organizations, and other resources that visitors to this site have found to be informative, supportive, or entertaining.
We are grateful for your visit to this site. We hope that you will find your stay useful and enjoyable, and that you will join our fellowship here. If you have any suggestions or feedback, please contact us here.





This site was founded in the spring of 2003 by the parents of a 3 and a half year old cancer survivor. On July 6st, 2001 our daughter Isabelle was diagnosed with stage III neuroblastoma- a cancer of the nervous tissue that usually strikes children between the age of one and two.

On that morning, the unimaginable became painful reality.
Over the next 18 months, Isabelle endured multiple courses of inpatient chemotherapy, several surgeries, weeks of radiation treatment, and a month long hospitalization for a stem cell transplant. Today, Isabelle's cancer is in remission. She is a beautiful young girl, full of love and life. We are very grateful to the medical staff and researchers who saved Isabelle's life.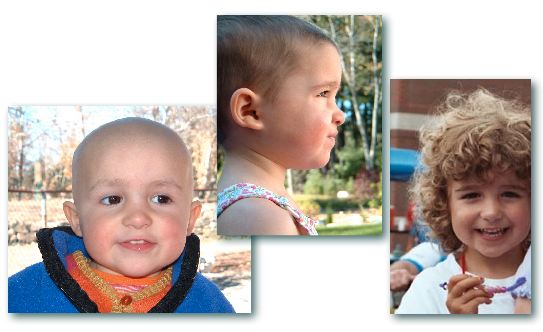 Having experienced the world of childhood cancer first hand, we will always be a part of it. We are part of the lives of the children who were saved, and also of those who were not. We are grateful for the faith and friendship that was offered to us by afflicted families during treatment, and since.
Many families affected by childhood cancer, like us, want to make a difference in the lives of sick children and their families. When we work together, there are no limits to the creative power of people who fight for healthy, happy children.
Every month we visit our hospital to offer coffee and share the story of Isabelle's recovery to newly diagnosed families. We wish to return the favor that was earlier offered to us by families who made a difference in our lives- who made our journey easier.
We have joined the Pediatric Family Advisory Council at our hospital. We do so to help us and others bridge the gap between between "on treatment" and "off treatment" lifestyle adjustment to cancer.
We have even written and illustrated a children's book for siblings of children with cancer, which will soon be published.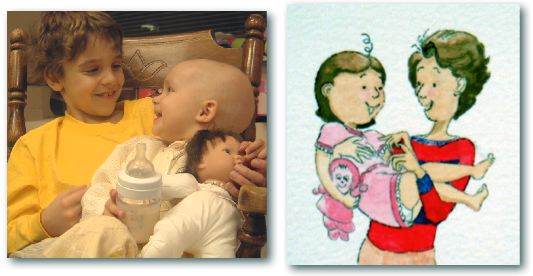 It is our son's story, and is intended to celebrate the sometimes heroic role that a well sibling can play in a family that affected by childhood cancer.
We have participated actively in fundraising activities for pediatric cancer research at our treating hospital. On February 14th of 2003 (Valentines Day), we established the "Friends for Life Neuroblastoma Endowed Fellowship" to advance the study of the cancer that struck our child.
Our hope is that other families, friends, and caregivers who are touched by childhood cancer will join one another in whatever forms of creative, social, or artistic expression that will help bring "good" things out of the "bad" that originally brought us all together.